Identity Theft Protection in the Workplace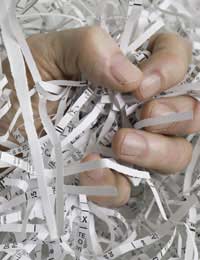 Criminals change with the times. When wealthy people used to travel lonely roads by stagecoach, highwaymen found them to be easy targets. These days, people who do not look after their private data are similarly easy targets to so-called identity thieves. This article explains how you can protect yourself against identity theft in your workplace.
What is Identity Theft?
Over the years, you have built up a reputation for yourself. Chances are that you have stayed out of prison and have paid your bills on time. If you have progressed in your career, you may have been able to afford to buy a home. If you've been careful with your money, you will have found that people keep offering to lend you more, confident that you will be able to afford the repayments.
If a criminal can find out enough of your personal information, he can pretend to be you, committing what is known as identity theft. He can apply for loans or other benefits in your name and then abscond with the money. The first you will know of this is when an official contacts you asking why you have missed a payment on a loan you didn't know you had!
Your Personnel File
Anyone wishing to commit identity theft in your workplace would naturally be drawn to the personnel records held by the human resources department. These contain all manner of juicy details – names, addresses, dates of birth and banking details – to get a fraudster's juices flowing.
If you believe that your employer has a lax attitude towards the confidentiality of this information, then you must take steps to get them to tighten up their policies.
The safest approach is to minimise the information that is held about you in the first place. If you are asked for data, you have the legal right to know how it will be used. Some businesses don't really need to know as much about you as they think they do. You are within your rights to withhold data from them as long as you don't falsify the data you do supply.
Snooping
As well as the data the company holds about you, there is also personal information that you communicate from your desk.
If you need to bring bank statements or utility bills into your workplace, you should keep them under lock and key. A certain degree of paranoia can be a healthy thing. In all likelihood, your colleagues are trustworthy, but it doesn't do any harm to take reasonable precautions.
You should take similar care when speaking on the telephone. For example, if you need to do telephone banking then it would be safer to do it from home, or using your mobile phone in private, rather than from the company phone on your desk.
When it comes to using your work computer on the Internet, you have even less control of your privacy. Data could be captured using surveillance software installed on your PC without your knowledge, or intercepted at any point between you and its destination. Unless you are careful, your document folder and your web history will end up containing lots of private data that could be used by an identity thief.
Protecting Yourself
The best way to protect yourself from identity theft is to keep your data to yourself as much as possible. Don't give your details to your employer unless they are really necessary, and avoid making any personal transactions from work, whether on paper, by phone or on the Internet.
You must defend your data outside the workplace as well. Shred your personal documents before you dispose of them. This should apply to any paperwork with your name, address or other details on it, even if you do not think they could be used for identity theft. After all, you are not a criminal, so judging what's important and what's not can be difficult – if in doubt, shred it!
For private tasks, avoid using your work computer if you can. You are much safer using your home computer instead and ensuring that you have installed software on this to protect your privacy.
You must be vigilant against identity theft. If this happens to you, it could wreak your credit score and could even cost you money. By taking these simple precautions, you will make yourself a difficult target and identity thieves will most likely turn their attentions to richer pickings elsewhere.
*The EU General Data Protection Regulation (GDPR) superseded the UK Data Protection Act 1998 on May 25, 2018. It expands the rights of individuals to control how their personal data is collected and processed, and places a range of new obligations on organisations to be more accountable for data protection.
Organisations are obliged to have technical and procedural measures in place to safeguard the personal information they hold. If you do not believe that an organisation that you have entrusted your records to is behaving responsibly, you have cause to complain to them, or ultimately to the Information Commissioner.
You might also like...
Private and confidential Is it ok to leave a copy of my resignation correspondence marked P&C on my work computer before I leave? The correspondence shows employer's reluctance to pay me for excessive overtime and the paltry remuneration offer. The purpose is to show the person replacing me is aware of the unethical practice of the employer.
andy
- 5-May-18 @ 3:49 AM
What should i do if i talked to the human resources person and the manager about my personnel file missing
Tempemployee
- 18-Jan-16 @ 5:00 PM