Protecting Your Privacy at Work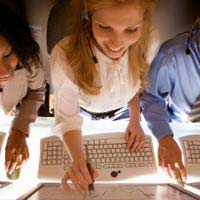 You spend a big portion of your life at work. It can be difficult to maintain your privacy when you spend so much time with the same people. This article gives you some advice about protecting your privacy visibly, audibly and physically.
Big Brother is Watching You
It's not that likely that your colleagues are watching you, waiting to commit identity theft. But do you want to take the chance? There are many lesser invasions to your privacy that could take place from casual snooping, so it pays to protect yourself.
If you bring private documents to work with you at all, there is the possibility that a colleague will see them. Locking personal documents away is second only to not having them there at all. If you have any information that you would not gladly read aloud then consider carefully whether you really need it at work, and, if you do, if its security is adequate.
Walls Have Ears
Do you use a telephone banking system? Think about how little effort it would take for someone untrustworthy to listen to what you say and to watch which buttons you press on the telephone keypad.
Most banks take the precaution of asking you for only selected letters from your password but this only protects you so far. Over time, someone with the opportunity to overhear you may be able to determine your password or gather enough other information about you to be able to claim to have forgotten the password and answer your security questions correctly instead.
The wartime saying "walls have ears" is still apt in the modern age, where unscrupulous people can profit from knowing your personal information. Whenever possible, try to keep your personal data at home.
Packed in Like Sardines
It's easy to understand the logic behind fitting as many employees into a given space as possible. Offices cost money, and fixed costs such as rents and rates are often calculated on the number of square feet occupied. Cramming people together saves on these costs.
However, if you are too physically close to the other people around you, it can be difficult to concentrate, your privacy will suffer and so will your productivity. If you feel this is the case, you should raise it as an issue with your manager.
There are steps you can take to protect your privacy even in these conditions. For example, a telephone headset may mean that you can talk more quietly than would be possible with a normal phone. Partitions between desks, even low ones, help to enforce the boundaries between them and give some degree of privacy.
Standing Up For Your Rights
Privacy is a fundamental human right, and you must not be afraid to demand it. Your employer will benefit if staff feel relaxed and happy rather than anxious and jostled, since this is a much more productive frame of mind. You must also take sensible precautions not to inadvertently reveal private details about yourself to your colleagues through your own carelessness.
You might also like...
Hi I forgot to logout of my personal email account and a college has scrolled through my photos and images. Is this illegal?
Bella
- 17-Jun-20 @ 12:36 AM
I have put in a request for all my personal documents and certificates to be returned to me because i have left the company, The company cannot find any of my paperwork or personal achievements that i had gained over the years, Every thing has disappeared since i put in a claim against the company for Bullying and Harassment,i had an accident at work and made a claim against the company for negligence so the bullying started and now my personal papers have gone missing,
BAZZA
- 10-Dec-15 @ 7:49 PM
Hi, i left my personal email open on my pac on a shared ps while i was doing front desk at the workplace and my manager who came to replace me has seen the email where i was bickering about her with an ex employee, is this illegal?
Marianne k
- 3-May-15 @ 7:17 AM