Dealing With Internet Pornography in the Workplace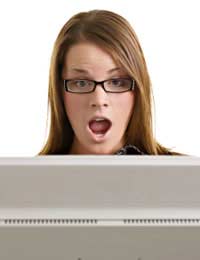 If staff can use the Internet at work, there's a chance that someone will access pornography.
Such access may be deliberate. On the other hand, a staff member may receive a spam email and open a pornographic link or attachment without thinking.
Either way, an employer must take action: some types of pornography that can appear on a firm's computer may leave an employer open to legal action.
Responsibility
The first point to make is that everyone has a responsibility in this matter. For many people, pornography of any kind is offensive. Because Internet pornography may distress work colleagues, it's therefore wrong to view it. This needn't be a moral issue. It's a question of respect for others.
Internet Access
To lower the risk of pornography appearing on a computer screen, employers use various safeguards.
Some establish who requires Internet access at work. They are within their rights to refuse access to staff who don't really need it.
Other employers prefer an open Internet policy because they feel it motivates staff. If there's a problem, one compromise such employers take is to restrict Internet use to those who need it, and to offer shared Internet computers to the remaining staff during breaks.
Security Software
Computer security software can block access to pornographic sites. An employer can also use an ISP (Internet Service Provider) that filters emails. Failing this, it's possible to buy software that filters out as much spam as possible.
An employer can strengthen this approach further by limiting email use to office accounts only. In other words, members of staff are unable to set up their own email accounts on the workplace system.
Internet and Email Policies
An employer should link any of the above measures with Internet and email policies. In this way, staff know where they stand.
An Internet acceptable use policy (IAUP) can forbid web access to offensive material. The policy must make clear that 'offensive' refers to pornographic material of any kind.
On a positive note, an IAUP should also stress what an employer allows members of staff to view on the Internet. This is usually any material needed for the furtherance of the business, and which will not cause offence.
Employers should normally take professional advice before wording an IAUP. Staff members with concerns about a policy should speak to their employers.
An email acceptable use policy (EAUP) follows the same line as the IAUP. The purpose is to limit personal emails, and to stop staff sending and receiving emails to and from pornographic sites. The policy should also state that staff must report pornographic spam that slips through the security net.
Disciplinary Action
The IAUP and EAUP must explain what happens if a member of staff ignores the policies. The result of not following the policy guidance is usually disciplinary action.
Dismissal may occur when an employee views extreme pornography that could lead to prosecution. Any staff member facing this or any other dispute related to the downloading of pornography at work can seek advice from Acas (the Advisory, Conciliation, and Arbitration Service).
You might also like...
Miss abc - Your Question:
Who you contact concerns anout boss and porn at work. And other questionable websites found on work place computers.
---
Our Response:
In the first instance, you would have to speak to your HR officer.
EmployeePrivacyRights
- 1-Dec-16 @ 3:04 PM
Who you contact concerns anout boss and porn at work. And other questionable websites found on work place computers.
Miss abc
- 1-Dec-16 @ 1:36 PM