Writing an Official Privacy Policy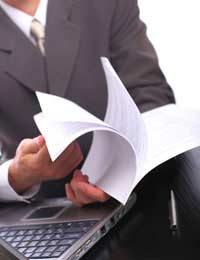 It may be appropriate for a business to have more than one privacy policy in writing; for example, there could be one privacy policy relating to records of customers and another relating to those of employees of the company. A company might even have a separate privacy policy to cover its website, laying out any privacy concerns specific to the Internet, such as the use of tracking cookies.
Customers and employees should be given the chance to read the relevant privacy policy when they hand over their details. This protects them from having their details used in a way they don't agree with, since they have the chance to withhold their information if they disagree with the guidelines. It also protects the business against future accusations that it is using facts about people without their consent.
When asking customers for their details, it is common to allow them to opt out of having these used in certain ways, typically various forms of direct marketing. These decisions must be recorded and the subject's wishes must be respected at all times.
A Clear Statement of Intent
A privacy policy should describe what information the business intends to collect about people, and how this will be used. It should describe how long the data will be retained for, and list the steps that will be taken to ensure that redundant items are removed and that the information is kept up to date.
If there is the possibility that people's records could be transferred to third parties (other than parties that have a legal right to ask for access, such as the police) then this must be specifically documented.
Clauses
If the organisation needs to do any of the following things, they should be explicitly mentioned in its official privacy policy:
drug and alcohol testing
storing medical information
searching employees of their possessions
Retention
It is useful to create clear guidelines for staff about the length of time for which personal files should be kept. The more specific the advice, the better. In this way, everyone involved in the collection, storage, modification and maintenance of personal data will understand what their obligations are.
The Data Protection Act states that records should be kept for no longer than is necessary to achieve the purpose for which they were collected. A clear and coherent written strategy will help a business to comply with this aspect of the Act.
The EU General Data Protection Regulation (GDPR) superseded the UK Data Protection Act 1998 on May 25, 2018. The new policy expands the rights of individuals to control how their personal data is collected and processed and it places a range of new obligations on organisations to be more accountable for data protection.
Organisations are obliged to have technical and procedural measures in place to safeguard the personal information they hold.
Access Controls
There should be a statement about who has access to the various types of personal records held within the organisation. This should be based on what people need to know in order to perform their roles, and must be compatible with the reason for which the data was collected. Recording this in writing makes it easier to reprimand employees found accessing personal files inappropriately,
Arbitration
It is helpful to state the process that individuals should go through if they have concerns about what is stored about them or how it is being used. For example, the privacy policy could explain their right to examine and correct their records, and could tell them about any mediation or arbitration process that is in place if they are dissatisfied.
Seeking Professional Advice
An official privacy policy is an important document. Its aim is as much to protect the company from prosecution as it is to protect the privacy of the subjects. Because of this, it is prudent to seek legal advice on its content once it has been drafted to check that it is legitimate and enforceable. A lawyer may even be able to supply a standard privacy policy to use as a template.
You might also like...