Contacting Employees in Their Homes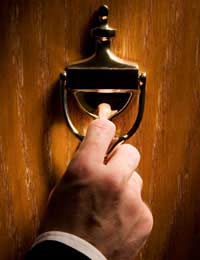 It can be difficult for some people, especially those in demanding jobs, to maintain a work-life balance. Once they have left the office, they should be allowed to relax in peace without having to be on their guard in case a colleague suddenly gets in touch with a problem.
This article looks at the different mediums by which employees may be contacted in their homes, and discusses the privacy elements of each.
Post
If it is necessary for a business to contact its employees outside work about a non-urgent matter, sending a letter through the post is probably the way least likely to raise privacy concerns.
Employees must be given the opportunity to opt out of receiving anything other than routine communication, such as pay slips, by this method. If the business has an internal postal system, this may be a cheaper, quicker and less intrusive method still for sending information to employees.
Telephone
Many people object to receiving calls when they are trying to relax at home. People can sign up to the Telephone Preference Service if they do not wish to receive unsolicited marketing calls, but they may have a harder time filtering out unwanted calls from their workplace.
Unless employees' contracts explicitly states that they must be available outside normal working hours, phoning them at these times is an invasion of their privacy.
Employees are perfectly entitled to withhold their numbers if they so choose. After all, they would be entirely within their rights to decide they didn't wish to have either a land line or a mobile, in which case there would be no number to give!
Of course, if someone has received a company mobile, then they may be called on it when they are not in the office, even if they are on holiday or it is outside their normal working hours. This is acceptable if the person has agreed to be called in case of emergency, particularly if they are being paid to be on standby. Otherwise, they are within their rights to turn off a company mobile when they do not wish to be called, and have cause for complaint if they are phoned at home.
Email
People can easily become addicted to sending and receiving email, particularly when they can do so from their mobiles. Employees need to learn to switch off, and not to access their work email remotely unless they really need to. Businesses need to instill a culture in their staff such that employees do not expect an immediate answer to emails if they send them out of office hours.
Visiting in Person
Perhaps the most outrageous invasion of an employee's privacy would be for a colleague to call on them at their house without having been invited. It is difficult to think of a situation in which this would be appropriate behaviour; perhaps only if there were an emergency and the person making contact was completely sure that their approach would be welcomed, and then only after an attempt to get in touch with the person by all other means had failed.
An Englishman's Home is His Castle!
People in this country are willing to put up with all manner of inconveniences in the outside world as long as they can retreat to their own properties, lock their doors and be left in peace. It follows that employees should only be contacted outside of work if it is strictly necessary and they have given their approval.
You might also like...
Lady - Your Question:
We have a whatsapp group page for work but we are getting messages early in the morning and late at night is this an invasion of privacy if you are not working and are at home this is all the time??! Your advice please
---
Our Response:
You should have a word with your employer directly. Unless it is written in your contract that you have to have one, you may just wish to turn any notifications off. Or leave the group.
EmployeePrivacyRights
- 29-Sep-17 @ 3:05 PM
We have a whatsapp group page for work but we are getting messages early in the morning and late at night is this an invasion of privacy if you are not working and are at home this is all the time??! Your advice please
Lady
- 29-Sep-17 @ 7:26 AM
This is all very well but in this age of mobile phones and app such as Facebook Messenger, more and more businesses are using group chat on this or even private messages to staff on days off or holiday. Is this allowed, or is this also an invasion of privacy for non urgent matters?
A work colleague of mine took last Friday off work as his mum had been taken into hospital the previous night. He had phoned the manager on the Thursday night to say he may not make it into work on the Friday then sent a text to the manager on the Friday morning to confirm he wouldn't be at work. The manager phoned my colleague later that morning, not because he was concerned, but to ask if he had stolen a box of co-codamol tablets from the managers drawer. Is this allowed?
AW
- 16-Jan-17 @ 12:57 PM
A friend of my is off sick with work related stress. They feel burnt out and overwhelmed but are scared of losing their job and what people think of them. They asked for sick note to be kept in a confidential locked place. They think at least 3 people have had sight of it. Is this a breach of confidentiality ? and if it is what can they do about it? This is only one part of a bigger problem - harassment, being undermined, discrimination on grounds of disability. Any advice gratefully received as to what to do next or who to contact.
Summer
- 29-Jul-16 @ 5:44 PM